Kahbam
Kahbam is a Contact Improv group based in Enschede, The Netherlands.
Kahbam explores body movements through CI workshops and sharings during jam sessions on Fridays in Enschede.
Through invitations also sessions in other cities (in the past: Münster, Göttingen, Utrecht, Schiedam, Eindhoven) or at festivals (Fusionfestival Lärz, Living Village, Potluck Festival, Culture festival, Balfolk, BodyLove, InTouch)

(check the planning for more info)
The workshops are lead by Loby Lam or his students.
Kahbam also invites guest teachers to share their perspectives.
But the essential teachings comes from the dance encounters itself.
Contact Meets Contemporary 2016 from annatina stalder on Vimeo.
Contact Improv

Contact Improvisation is a contemporary dance form based on the physical principles of touch, shared weight, listening to a shared point of contact. This form is for everybody, whether you are an advanced dancer or just a curious beginner, including all kinds of abilities and restrictions.
Movements explorations of the body and centering the mind, lifting using minimal effort, how to make ourselves light when being lifted or stable when it comes to supporting.
Cultivating a comfortable attitude towards being in the moment of not-knowing, for the
responsiveness to our partners and the surroundings.

We give you the opportunity to participate in our weekly workshops and jams in the Prismare (Enschede).
When:

on Friday (click here for the planning or subscribe the facebook page)
Preparation: 19:50 - 20:00
Workshop: 20:00 - 20:45
DanceJam: 21:00 - 22:00
Where:
Enschede:
Prismare
Muziek Atelier (2nd floor)
Roomweg 167
Enschede
Costs:
Donation scale 5- 10 Euro (Workshop + DansJam)

Clothing:
Easy-wearing clothes like T-shirt and Yogi pants.
Barefoot.
Other classes:
Münster:
Diepenbrockstr. 2848145 Münster
Utrecht:

Playcreation
Vlampijpstraat 131, 3534 AR Utrecht

Rotterdam:
The Monkies
Noordvest 23, 3111PE Schiedam, Netherlands
Eindhoven


News

Photo's from Fusionfestival 2018

Photo's from Patrick Beelaert
Beautiful pictures at several contact improv festivals.
This album are taken in 2018 at the Oster Improv festival in Gottingen.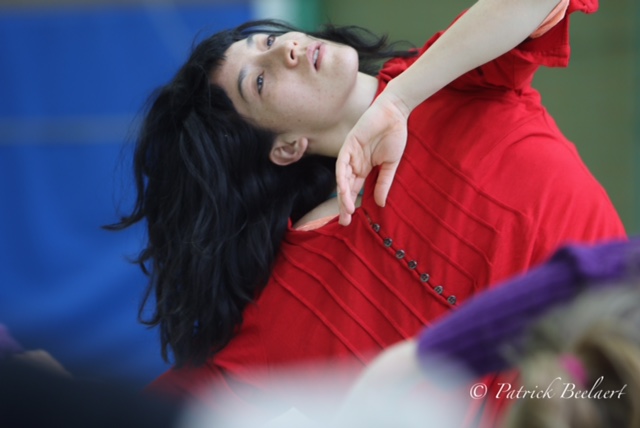 Contact meets Contemporary
30 July - 5 August (Contact meets Contemporary, Gottingen Germany)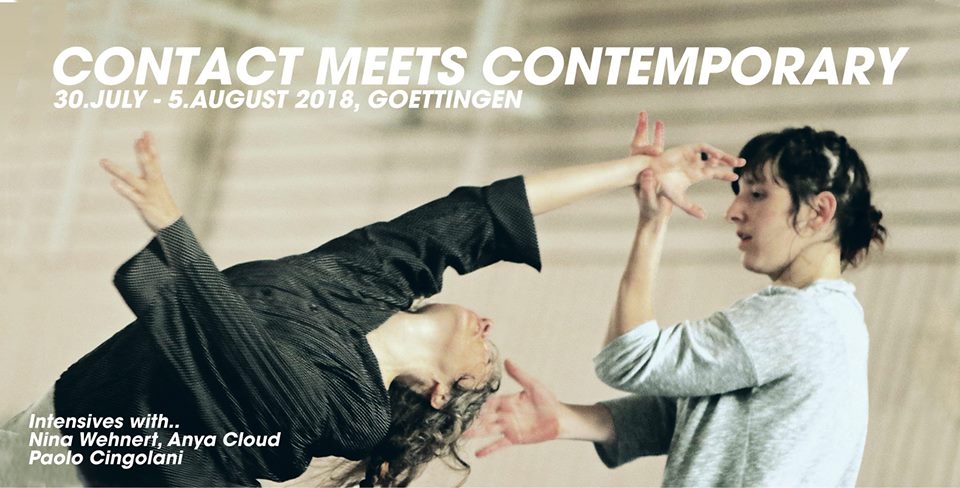 Body Love Festival
20 July-25 July (Body Love, Barniner See, Germany)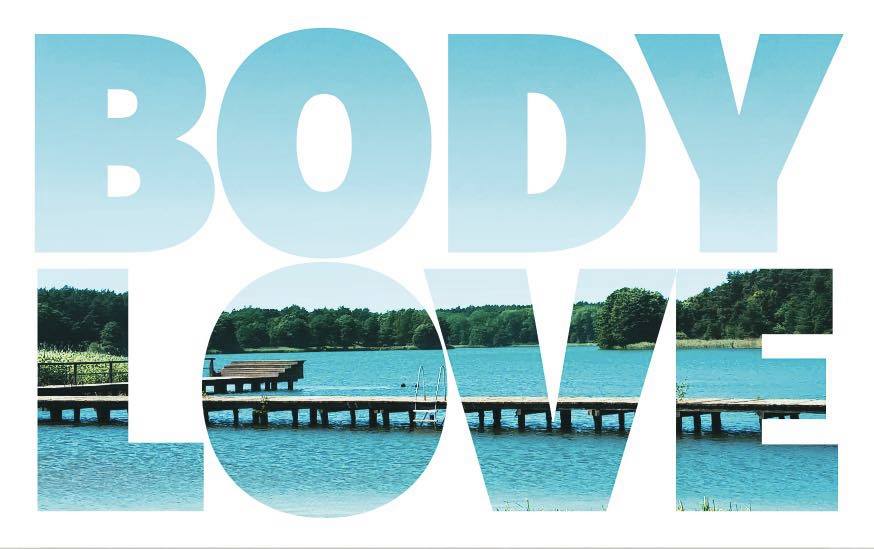 Fusion Festival Lärz
27 June- 1 july workshop program



Living village Festival
18- 25 June (Living Village Festival, Dalfsen NL)
Berlin Contact improvisation
9 May - 13 May (Berlin Contact improvisation Festival)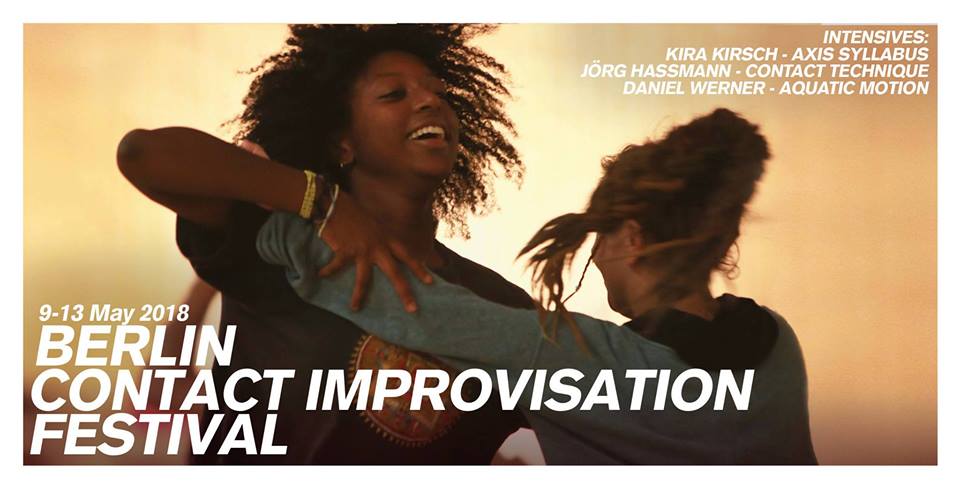 New Years Contact Improvisation Festival Berlin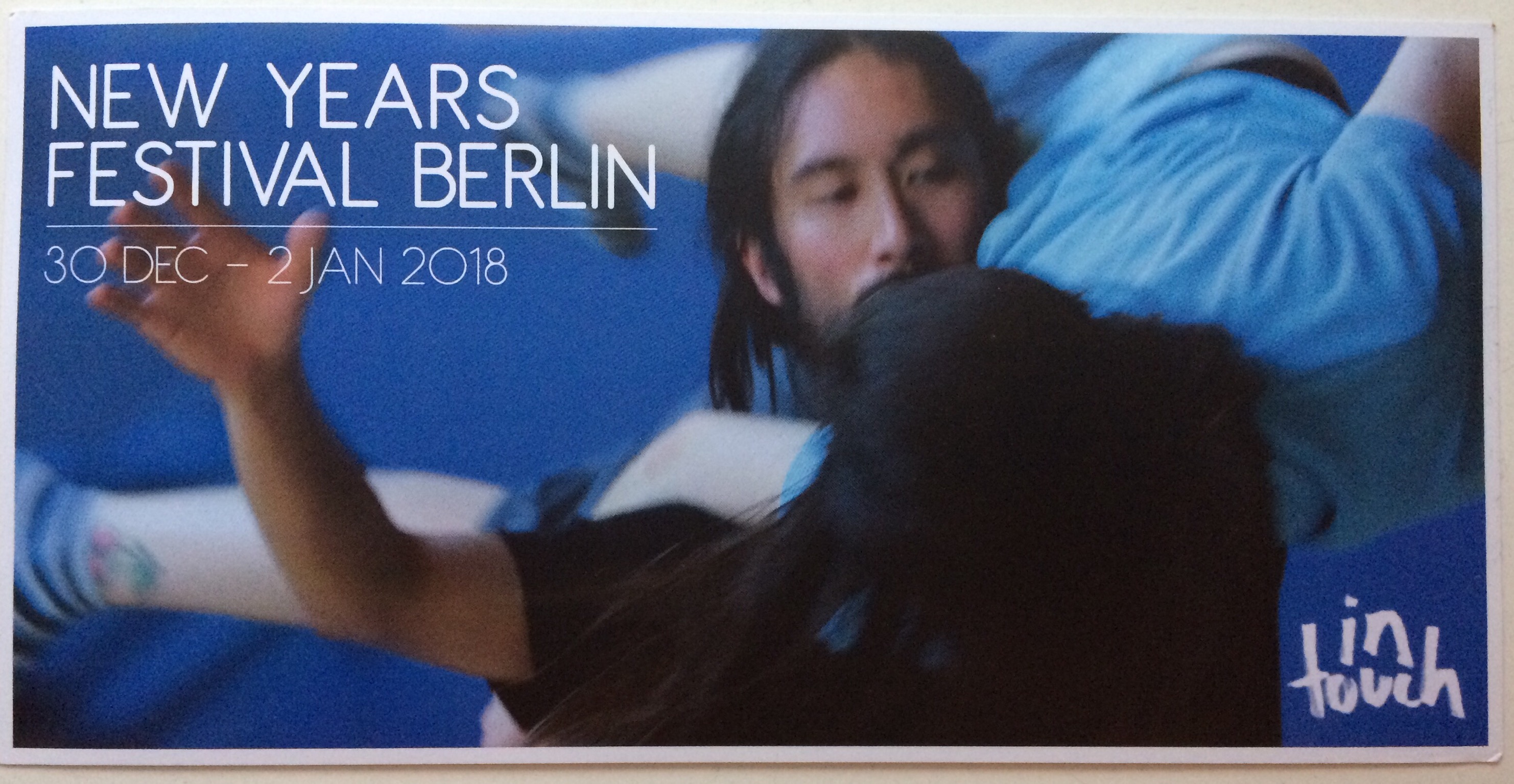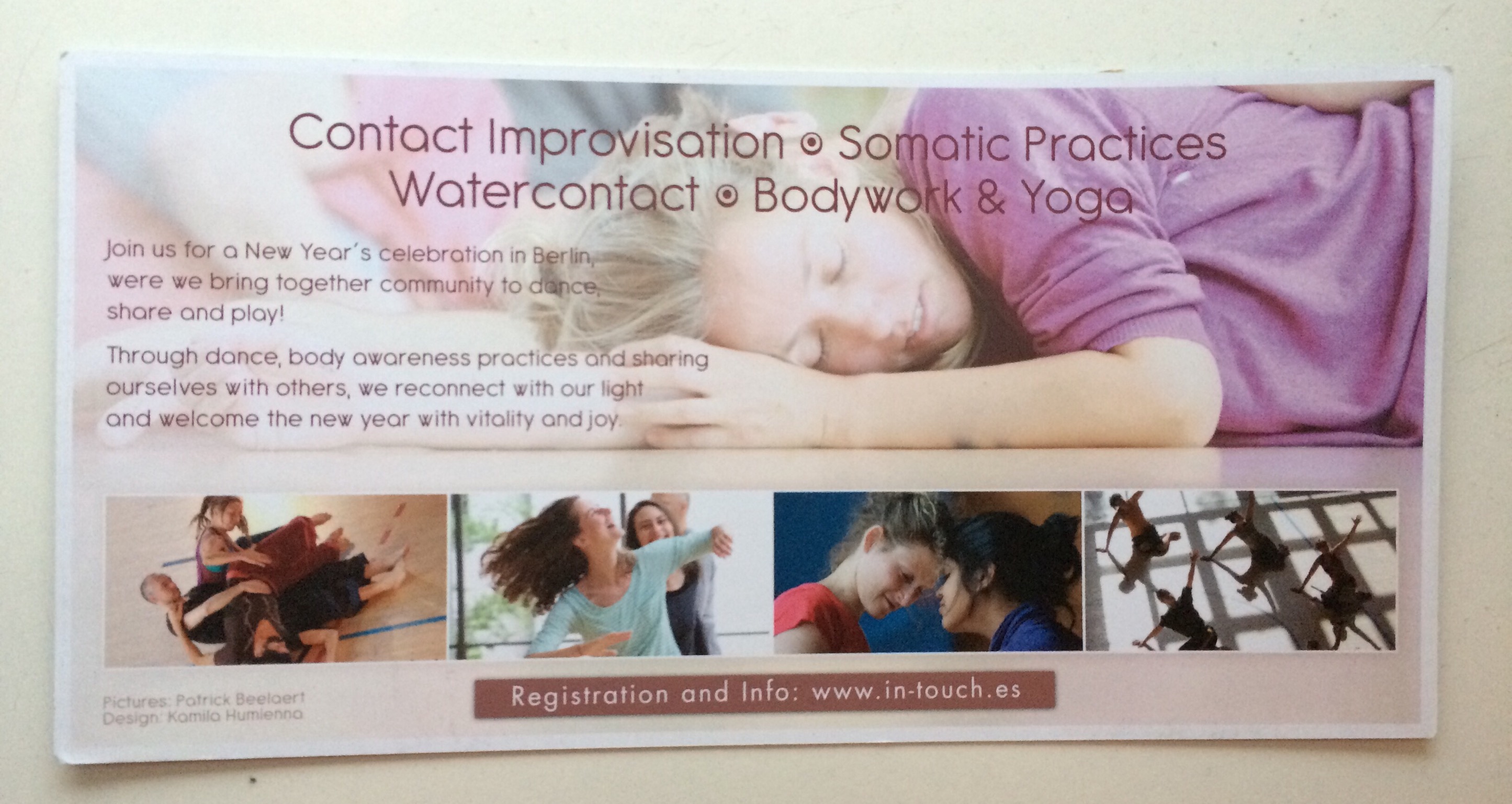 Facebookevent
Klinikclowns gehen durch den Dschungel
Seminarwochenende gibt wichtige Impulse für die Arbeit der Clowns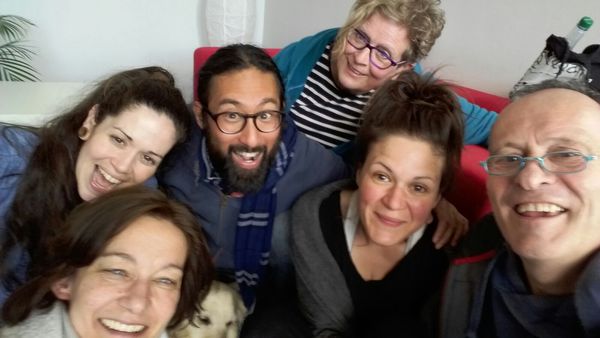 Beeindruckt vom Seminar bei Loby Lam (3. v. l.) zeigten sich (v. l.) Ulrike Elskamp (vorne), Olinda Marinho e Campos, Susanne Ratzmann, Jaqueline Bollig und Michael Westermeier.
Rheine - 18.04.2016. "Doppeldaumen hoch" war die Bewertung der Klinikclowns nach ihrem Wochenendseminar beim Improvisationstrainer Loby Lam, der in Enschede die Kontakt-Improvisations-Gruppe "Kahbam" leitet. Dank der Kooperation mit dem Jugend- und Familiendienst (jfd) Rheine konnten die Klinikclowns für ihre Fortbildung die Räume des jfd kostenfrei nutzen. Am Sonntagnachmittag ließen sie müde und euphorisch zugleich die zwei Tage Intensivtraining Revue passieren.
Das Weiten meines Horizontes hat meine eigene Standfestigkeit gestärkt", stellte Susanne Ratzmann ("Molly") verblüfft nach einer Fokus-Übung fest, "ich bin viel schwerer aus dem Gleichgewicht zu bringen gewesen. – Ich habe dabei auch viel für mein Leben mitgenommen, nicht nur für meine Clownsarbeit." Organisiert hatte das Seminar die künstlerische Leiterin des Vereins Olinda Marinho e Campos.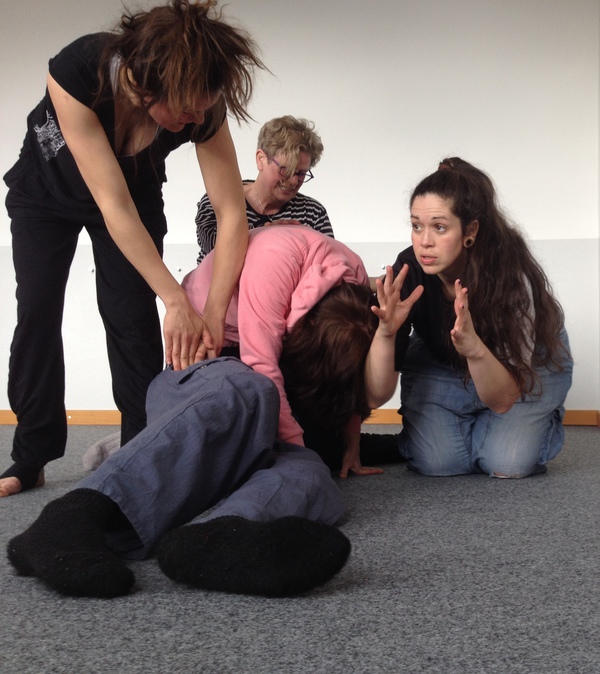 Mit ganz wenig ganz viel machen: Dass sie das können, erfuhren die Klinikclowns während des Improvisationsseminars mit Loby Lam.
"Wir Menschen haben durch die allgemeine Alltagsbewältigung sowie die Arbeit die Tendenz, zu sehr zu verkopfen, zu analysieren – dadurch entfernen wir uns von unseren Emotionen und Sinnen", sagte sie. Durch verschiedene Techniken der Kontakt-Improvisation, die auf körpereigene Impulse und Sinnenswahrnehmungen aufbauen, werden die nicht-kognitiven Kompetenzen geschult. "Aufmerksamkeit und Empfindsamkeit sind ein wichtiger Teil unserer Arbeit", erklärt Marinho e Campos.
Selbst für die erfahrenen Profis war es toll zu erleben, mit wie wenig Input von außen sie aus beinahe nichts alles machen können – indem sie einfach da sind und aus sich heraus agieren. "Das Einlassen auf die Situation, mit dem gehen, was da ist, das ist die Essenz", sagte Marinho e Campos ("Mimi"), "ohne diese innere Haltung sind alle Clownstechniken vergebens."
Während der Übungen fragte Lam immer wieder das Energielevel der Teilnehmer ab: "Wo steht ihr gerade? Was braucht ihr jetzt?" Nach der Mittagspause sei er einfach noch ein paar Minuten liegen geblieben, sagte Michael Westermeier ("Konrad"), "und das war dann auch okay. Es war schön zu erleben, wie die Erschöpfung von allein weicht, wenn ich sie zulasse, und einer ganz neuen Kraft Platz macht."
"Die anderen zu sehen und zu erleben, wie sie an ihre Grenzen gehen, einfach so, ohne Leistungsdruck – das war ein Geschenk!", sagte Jaqueline Bollig ("Flora"), die vor einiger Zeit neu zum Team gestoßen ist. "Wir haben uns näher kennengelernt, das Vertrauen untereinander vertieft", sagte Marinho e Campos. "Das war sehr wichtig, da wir sonst zwar miteinander arbeiten, aber privat wenig miteinander zu tun haben."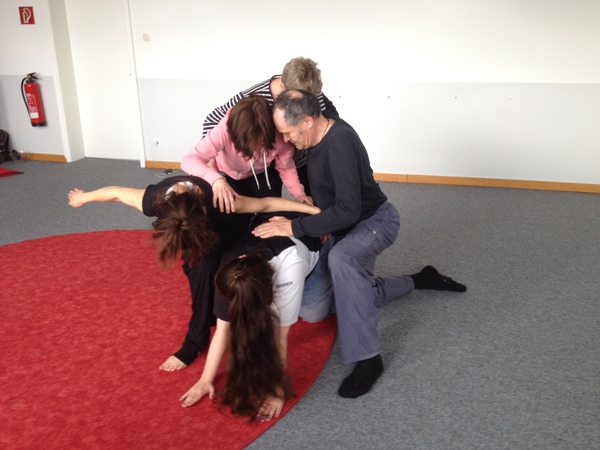 Mit geschlossenen Augen arbeitet sich Ulrike Elskamp (rosa Pullover) durch den "Dschungel" der Körper der anderen Teilnehmer.
Besonders beeindruckt hatte die Clowns die Übung "Dschungel". Der "Dschungel", den eine Person mit geschlossenen Augen durchwanderte, bestand aus den Körpern der anderen: Durch Spüren und Tasten fand sie ihren Weg über, unter oder zwischen den anderen hindurch. "Ich hatte vor der Übung wirklich Angst", sagte Ulrike Elskamp ("Lili"), "aber mit dem Schließen der Augen kam plötzlich das Vertrauen." Wärme, Atem, Fühlen – "es war, als würden an meinem Körper plötzlich viele kleine Antennen entstehen", erinnerte sich Bollig an die Übung.
Lam bekam viel Lob für sein Improvisationsseminar, das er aus seinem Repertoire heraus ohne Vorbereitung ganz individuell angepasst hatte an die Menschen, mit denen er arbeitete.
Für die Arbeit der Klinikclowns mit kranken, behinderten, dementen oder sterbenden Menschen jedes Alters nehmen die Clowns viel mit: "Wir nehmen uns nun noch mal mehr Zeit, um zu gucken, was da ist: in genau der Situation mit genau dem Menschen. Und wir vertrauen darauf, dass ein Impuls aus uns heraus kommt, der unser Spiel ermöglicht", sagte Westermeier. Denn nichts anderes als Improvisation ist die Arbeit der Clowns, wenn sie die Tür öffnen und plötzlich im Zimmer der Menschen stehen.
(Text: Mareike Knue)

http://www.klinikclowns-steinfurt.de/
video kliniklowns
Workshop in Utrecht

Danspaleis030



Kahbam Contact Improvisatie Dansworkshop 6april 2016 19:00 inloop

In deze workshop gaan wij met Contact improvisatie bezighouden. Loby uit Enschede komt te gast een workshop + jam begeleiden.

Onderwerpen die o.a bod komen.
- Luisteren naar het contactpunt om vertragingen in te bouwen
- Delen van je gewicht voor het liftwerk
- Verschillende manieren om in en uit de jam te komen

Kahbam is gevestigd in Enschede. Wekelijks op de vrijdagen zijn workshops en jamsessies georganiseerd voor mensen die zich met CI en het exploreren van dans en bewegingen bezighouden.
Danspaleis030 Herculesplein 25, 3584AA Utrecht
Created for PLAY! Natural Dance Party
https://www.facebook.com/events/1673501489569595/


Guest teacher Suzan Lemont
when: 26-02-2016
start at 19:50
where: Enschede Prismare
more info: facebook event
Expressive arts therapist, body-mind connections facilitator, and movement improvisation teacher Suzan Lemont will lead the group in a Body Mind Centering-based warm up. We begin with the connection to ourselves, then move to connection between us and the environment, and then into our awareness that we are a contained being moving in a specific space and coming into contact with others. Once we have an increased awareness of what our drives and preferences for movement are, we can experience a different kind of contact: slower, deeper, more integrated. The focus will be on the awreness of the spine and increased sensory perception. All levels and backgrounds are welcome.
http://www.pandorasplayspace.com/
https://www.facebook.com/events/213671458985396/


Contact
Voor meer informatie om mee te doen met de workshops
of voor een workshop aanvraag, neem contact op met Loby .

For more information to join the workshop
or to book an customized workshop please contact Loby.
info@loby.nl
0031636127458
en http://www.youtube.com/watch?v=YxbECdze1oI
Muziek Atelier
Roomweg 167d
7523 BM Enschede
Op de vrijdagen (zie planning)
Voorbereiding: 19:50 tot 20:00
Workshop: 20:00 tot 20:45
DansJam: 21:00 tot 22:00

Teacher
Loby Lam (B.cs)

Loby works as an improvisation practitioner and teacher.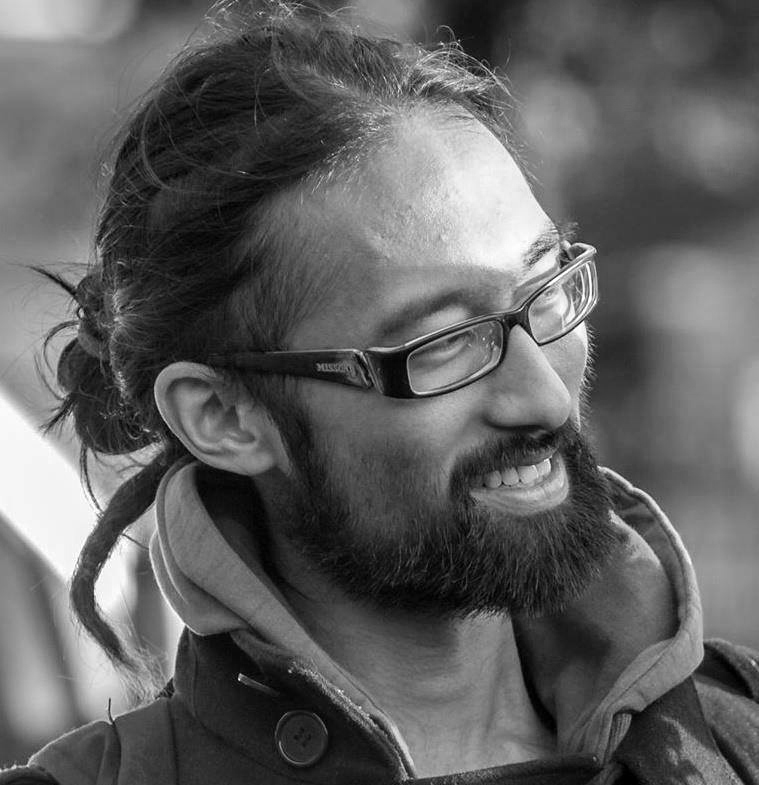 He started Kahbam in 2013. He has a background in improv piano (since 1991) and theatre (Founder of theatre group Theatre group Vreemdwild in 2009 and member of Prodeo at the University of Twente and Roest for 5 years since 2004). He organizes theatre performances (VreemdWild) with students from the Art Academy AKI/ ArtEZ Academie.
After the Bachelor of Information and Communication Technology with specialization in Gaming and Security (2001-2006), he participated setting up Iederwijs in Twente (inspired from the Sudbury Valley School) and was a coach/ teacher. Through play, people get connected and learn the most effective way through personal experiences.
Later on, he went to several Vipassana meditation retreats to learn more about mindfulness.
To realize that having less stuff is making life more flexible, he experienced a nomadic life by building a covered wagon behind a horse and traveled.
After that project he went on backpacking, hitchhiking and couchsurfing.
During experiences abroad, he discovered contact improvisation.
He enjoys bringing people together as they show their authentic selves in the dance.
CI shows benefits applicable to his daily life, like being mindful in the changes and to make a deeper connection with life itself.
He also practices Aikido since 2014, which benefits in CI he finds are derived from Aikido, at the Headquarter Aikikan Dojo Enschede, lead by Siavash Derakhshan 6th dan.
The line that is being followed is Tissier line by Christian Tissier 8th dan.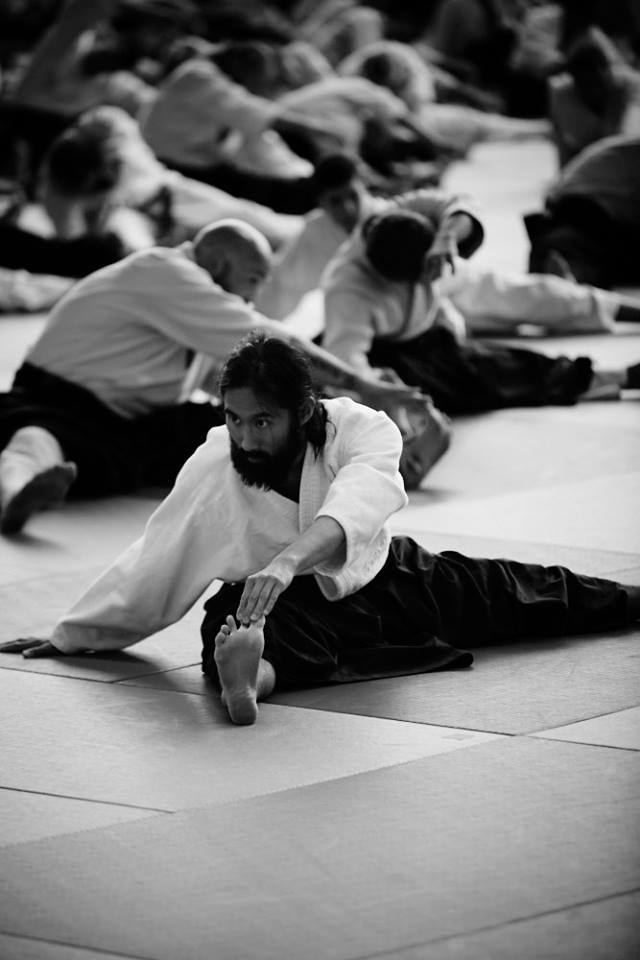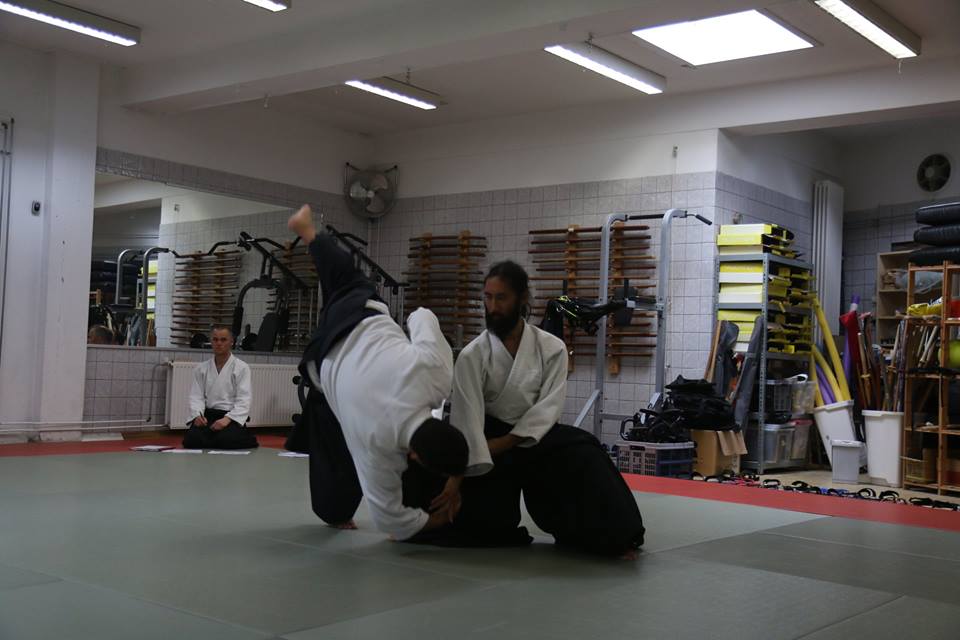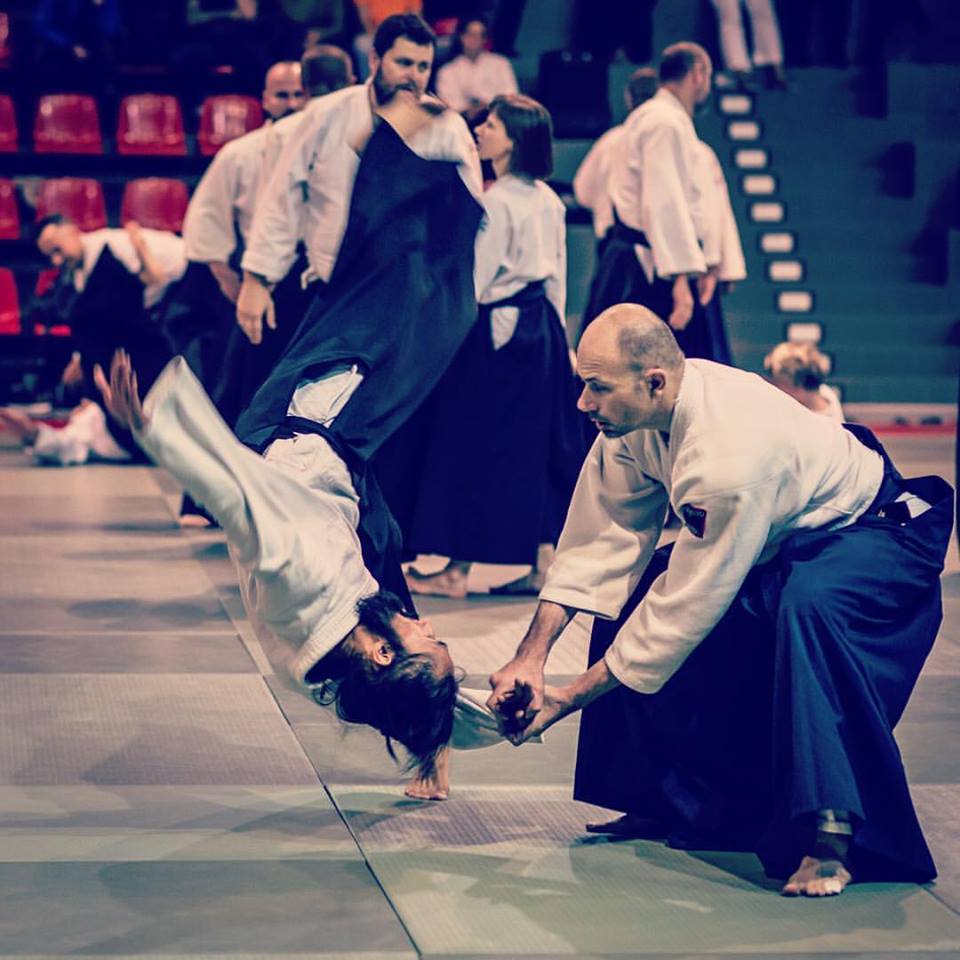 Loby traveled and joined classes/ jam sessions/ festivals to discover more about Contact Improvisation in Hongkong ( Kongtact Square身隨意舞) , Budapest (SIN & Kontakt Budapest), Berlin (k77, inTouch ), Krakow, Groningen (Random Collision), Amsterdam, Gottingen (Contact meets Contemporary, Osterimprofestival )
He set up Kahbam to combine all the different perspectives of movements and disciplines in order to offer space to share experiences.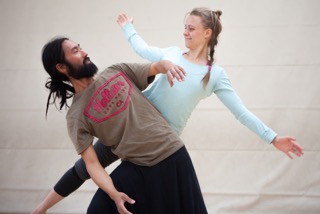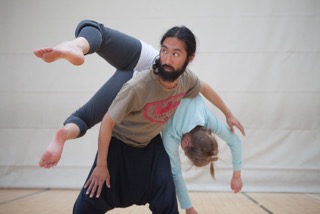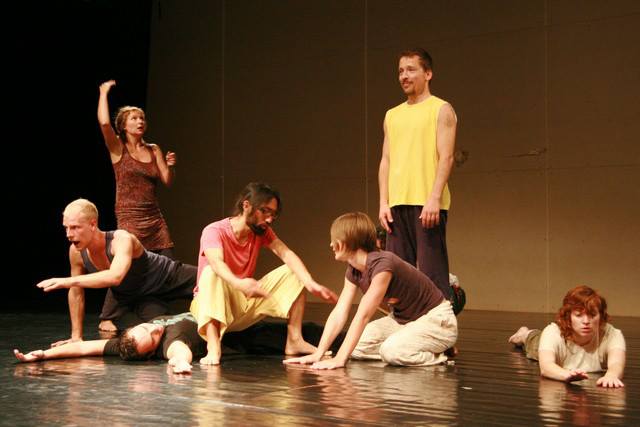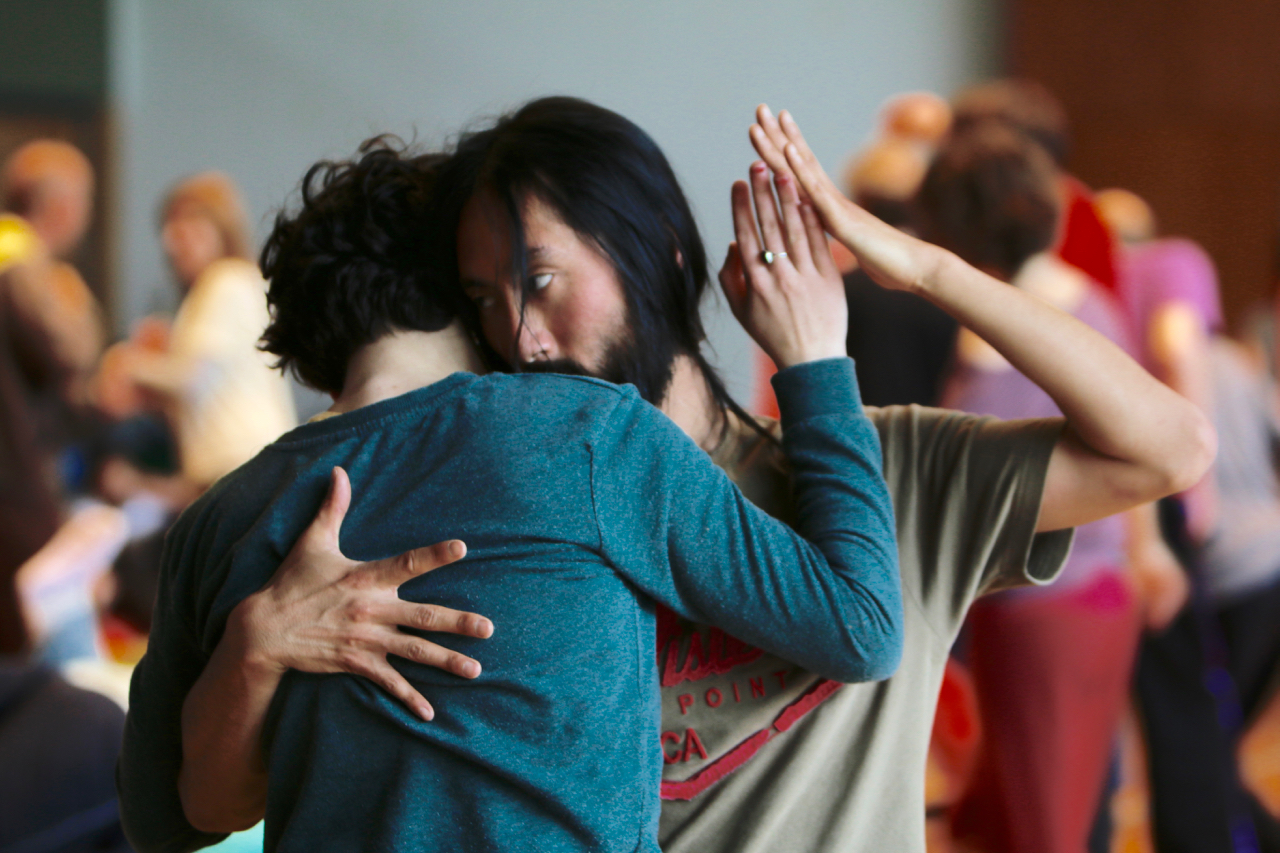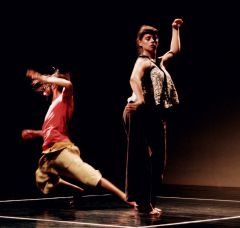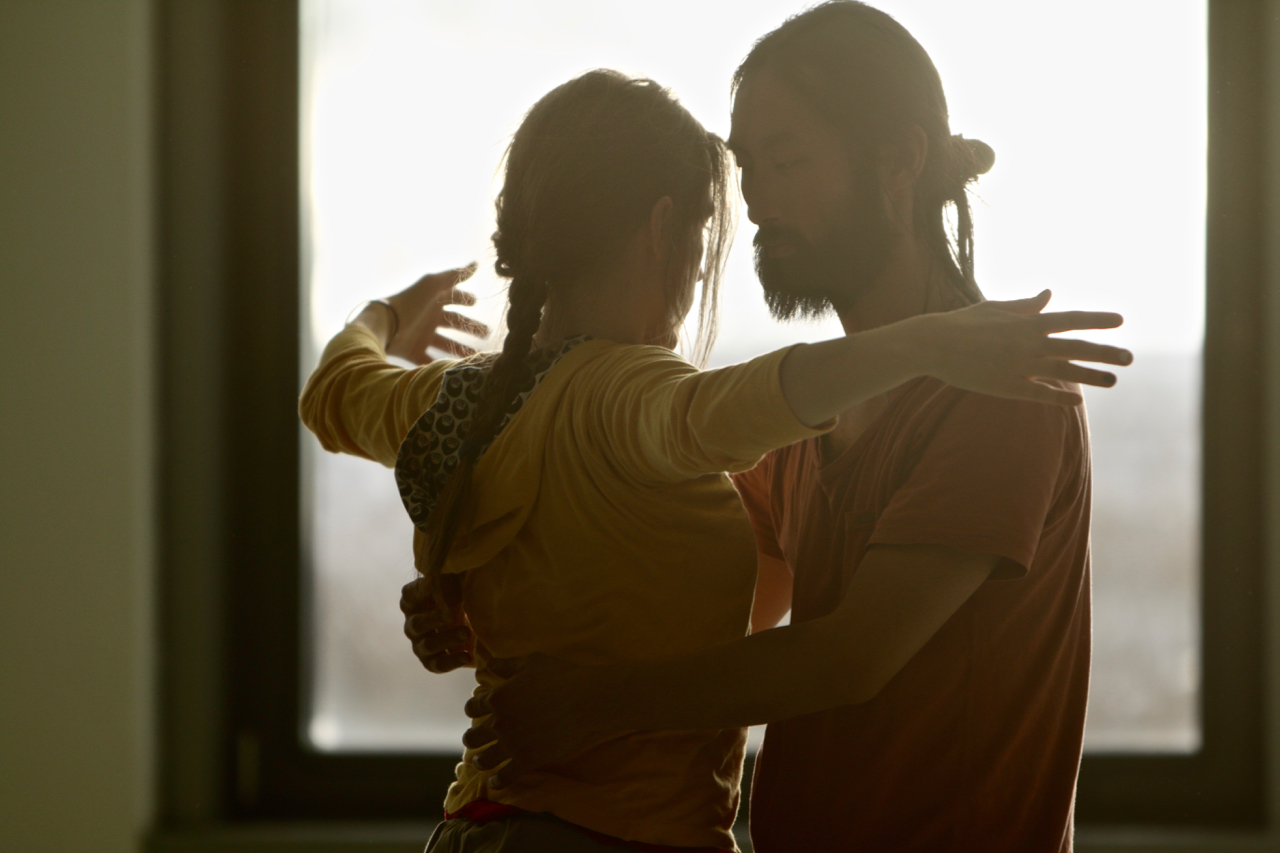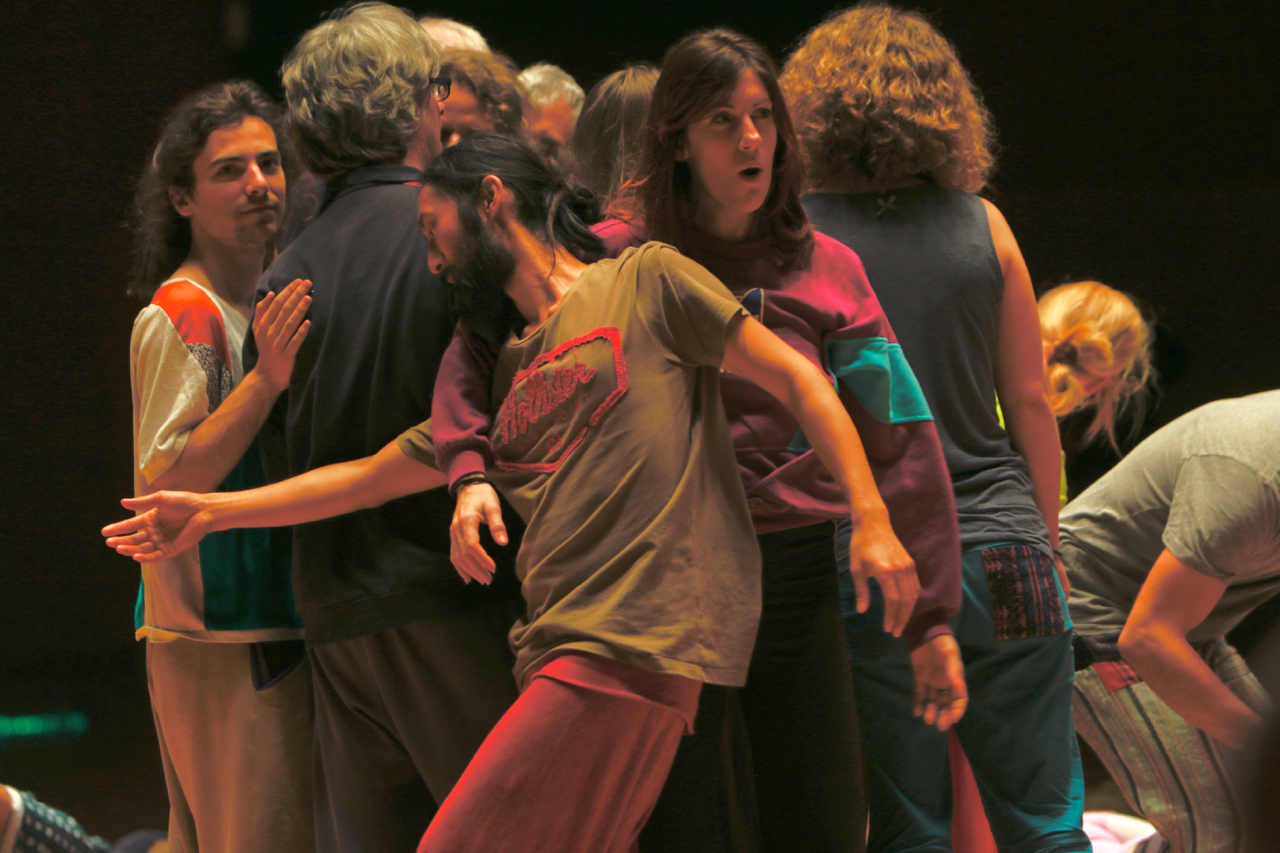 Links
Other CI places in the Netherlands:

Utrecht: http://www.dansavontuur.nl/
Amsterdam: http://www.AmsterdamJam.nl/
Rotterdam: http://www.contactzone.nl/
Groningen: http://www.contactimpro.nl/